i've generally been a cloth pad girl, but i am making a set for a cousin and another set for a friend, and because a cup is part of my home period protection choices (i use it to swim and things where pads aren't desirable) i plan on making a cup a part of their gift packages. Recently, i've been unable to sew, due to machine problems, and i had the chance to get creative with ways to store or conceal a menstrual cup...these little bears are the result! i got so excited about them, that i wanted to share the joy. i mostly read this community though, and don't think i have posted before, so i'm not sure if this is OK as a post here or not. If it isn't appropriate, please let me know and i will take it down right away. Thank you ladies, and enjoy! :)

i call these guys "Treasure Teddies" or "Cup Cuddlers", and i'm so happy with how cute and soft and functional they are, that i can't stop making them! Basically, i take the odds and ends of my really soft left-over yarn, and i crochet these little bears to have a hollow tummy. They are the perfect size to hold your menstrual cup, or a rolled up pad, to be set on a shelf, or in your car, or on the sink, and your emergency period protection is right there in the open, and no one the wiser! (i'm a big fan of creative camouflage) Their little heads and arms and legs are stuffed with the scraps from my pad sewing adventures, and they have eyes made from the buttons i've been hoarding since i was a little girl.
i'm getting all excited about the Treasure Teddy idea, because they are also the perfect size to hold NP3 players, cell phones, hankies, wipes, and all kinds of other personal do-dads. i even have a plan to make some that are baby-safe, (thread for eyes instead of buttons, and sewn closed at the tummy) that have rattles inside, for my friends who are new parents. (squeal of glee)
You can tell i'm happy about this.
So, i wanted to see what you all thought. If you would like to buy one of these for yourself, i'll be putting the money toward a REAL professional snap-press (finally!) and i joyfully accept pay-pal. :)

Here's how they work: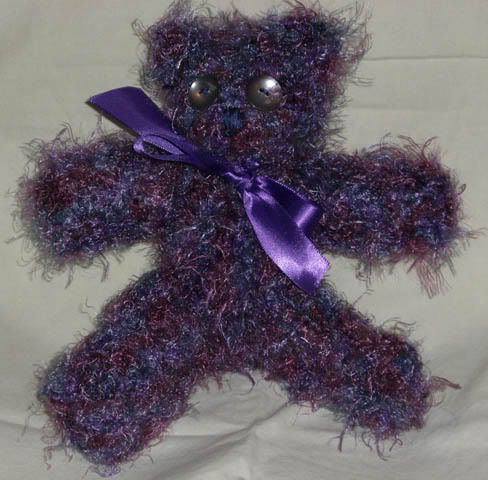 Untie the bear's neck-bow,




Pull back it's head,




And put in or pull out your treasure!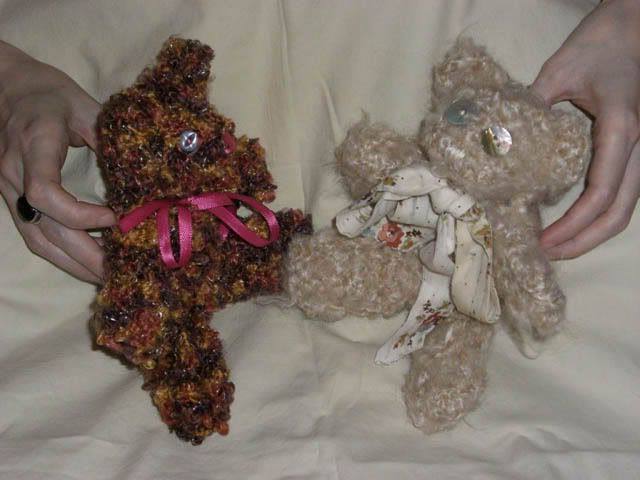 Please excuse the Oatmeal color bear's bow being all rumpled, she wasn't expecting to have her picture taken. :)




If you would like to have one of the four bears you see here, (purple, burgundy, oatmeal, or autumn leaves) they are $20 each. EDIT: the purple bear is sold :)
And as always, happy feedback and comments would make my day!