My heart has joined the thousand, for my friend stopped running today.


I killed my Divacup. :( Please learn from my mistakes.



Me and my Divacup had been together for three long years. Unlike most relationships that last that long, we were still completely compatible "down there." Oh, how that cup made my vagina happy. :o)

I know it's selfish and vain, but even though I *loved* my cup, after all these years...the cup just didn't look the same anymore. I wasn't as attracted to it, you might say. Really brownish-yellowish icky color. A pungent smell from the approximate 271 days of blood it'd held the fort down south. I have a strong stomach and yet it really did make me squick out to smell it...and even though it *should* be sanitized, I couldn't help but think that the rotten smell might have some bacterial root. I tried everything to spice things up to the way they used to be. Boiling extra long, vinegar, hydrogen peroxide, rubbing alcohol, chamomile, dish soap, a few rounds in the dishwasher, you name it. No amount of soaking or scrubbing was helping. Finally, I decided to bleach it.

I read up on it and decided that I was willing to take the risk, considering I couldn't find any info in the pamphlet or online about silicone eroding due to bleach. And as long as it was thoroughly washed and thoroughly dried before using it again, all sources online say there shouldn't be a problem. Plus, I was pretty sure the line of cleaner called Divawash had some bleach in it, right?

I tried just a tablespoon in eight ounces of water first. Let it soak. Nada. Time for the big guns - let's let it soak in pure bleach and see what happens!

BEHOLD, LE WHITE AND STICKY CUP OF DOOOOOOOM: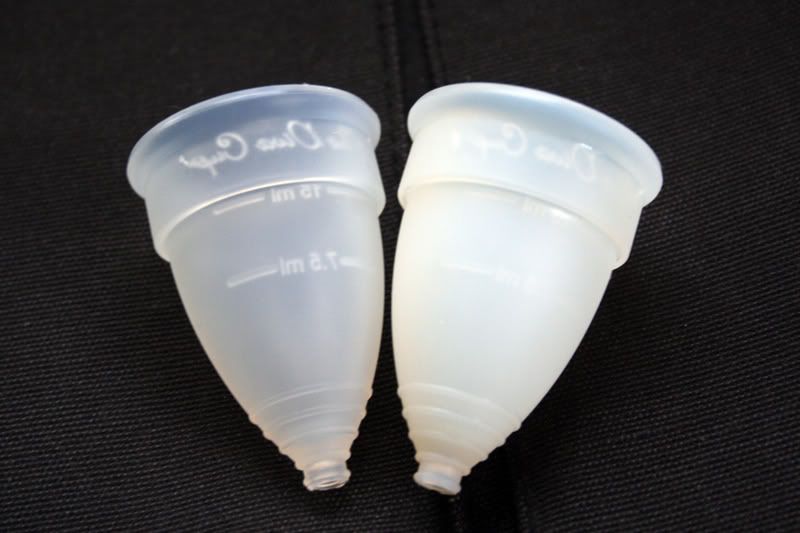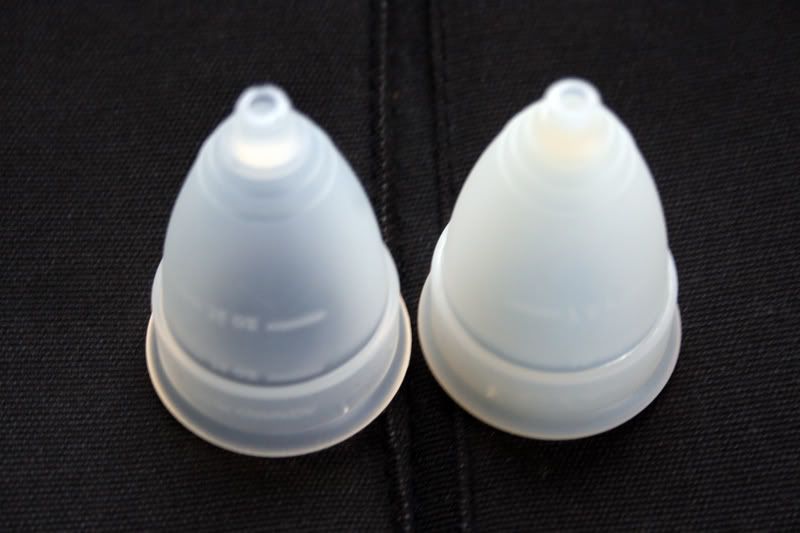 Instead of taking off the ick, it just turned the ick white. (Investigation is still ongoing to see if an albino cousin of the Cat in the Hat is behind the murder.) Aaaaaaand it pretty much ate away at the cup, so some parts are nice and smooth and others are sticky to the touch. I called Divacup and they informed me that nope, they don't use bleach in their Divawash and they absolutely "do NOT recommenda ZEE BLEACH" (the lady I talked to had a French accent :). Crap. I missed that. Oh well. At least I have a spare.
I'll still keep the Ghost of Divacup Past around. Y'know, in case I run out of shot glasses or something! So ends our three year love affair. <\3