I took a bunch of pictures of the different folds as I understand them, for future reference! Trying to figure out the "7" fold in particular was really difficult until I found some pictures. I thought it would be good to have step by step pictures of all the folds in one place.
I also am planning on taking comparison pictures of ALL the different menstrual cups (Lunette included). I wrote to the companies asing for samples. I plan to put all these photos, as well as the folds, on a webpage for easy access, for beginner cup users! Hopefully I can make the process of getting used to a cup easier than it was for me! And maybe some other information too, who knows.
WARNING! For those on dial-up, there are a TON of pictures behind the cut. It will take awhile to load. Pictures approximately 100 kb each, and there are 18 of them behind the cut.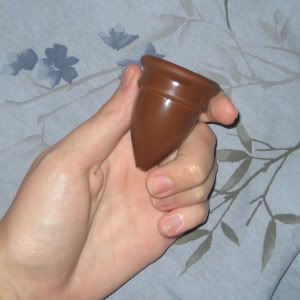 My Keeper. Approximately 2 1/2 years old, Size "B" (smaller size). Yeah I know I need a manicure. :P The Keeper was dry too, much harder to hold the folds! Oh and it's not that easy taking pictures of your own hand, but way better than sucking up my pride and asking my sister to photograph my menstrual cup!
(
Collapse
)
(
Collapse
)
(
Collapse
)
(
Collapse
)
(
Collapse
)